Time Traveling to the 1980s with Tokyo Rose's "Bright Lights, Dark Shadows"
Filmmaker Tim Buttner used DaVinci Resolve 15 Studio for the new music video's VFX and grading
The hunted becomes the hunter in the new "Bright Lights, Dark Shadows" music video for Tokyo Rose's song "All Night." Directed by Ryan Justice, the music video harkens back to the 1980s but with a bloodthirsty twist as vampires are on the prowl. Both hunting and becoming prey, while being trailed by a vampire hunter, the music video mixes together the bright lights and colors of the 1980s with the dark shadows of the vampire world.
"I've always been obsessed everything about the 1980s, and the visual styles of Tony Scott and Joel Schumacher have been a huge inspiration for me. In this video I wanted to sink my teeth into emulating the style of 'The Lost Boys' and 'Top Gun,' considering that we were dealing with the sexy appeal of vampires," explains Justice.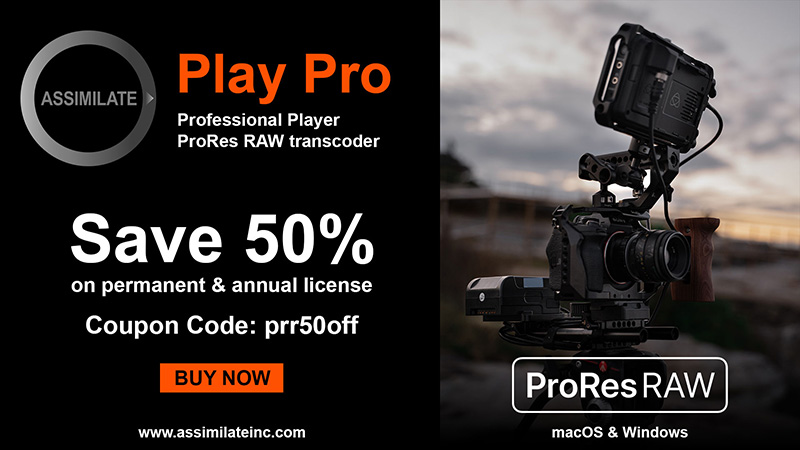 Filmmaker Tim Buttner helped define the music video's look by using Blackmagic Design's DaVinci Resolve 15 Studio for its color grading and visual effects (VFX).
Channeling the Big Screen
Buttner, Justice and Cinematographer Ian Longen worked together to create the music video's look, getting inspiration from different 1980s and early 1990s movie classics. According to Justice, "I wanted to create a stylistic music video and the tools inside DaVinci 15 Resolve Studio really helped bring my vision to life."
Longen shot the music video under different gelled lights to create colorful lighting, and then Buttner amplified the look by using DaVinci Resolve 15 Studio's curves to adjust individual colors and achieve the looks that Justice wanted.
"Ryan wanted the video to feel like a 1980s' film, so my look took a cue from several films made during that time period. For example, I referenced 'Top Gun' and 'True Romance' for the love making scenes," explains Buttner. "The first scene where the man goes home with the female vampire was shot under an orange lighting scheme to give it a unique look, whereas the second scene where the now vampire man takes home an unsuspecting woman was shot under a blue lighting scheme.
"When I first got the footage that lighting was slightly more purple looking, so I adjusted it first to a slightly lighter blue. Later we adjusted it further to a darker blue to be more in line with the 'True Romance' look that Ryan was going for. Since I was using DaVinci Resolve 15 Studio's shared node feature, these adjustments were quick and painless. Similarly, the orange scene needed some small tweaks and the shared node feature made adjusting it seamless."
Buttner also relied on DaVinci Resolve 15 Studio's Power Windows and film grain tools while defining the music video's look.
"For the video's bar scenes, Ryan wanted more detail brought out of our main man's eyes, and so I tracked a Power Window that helped lift the shadows just enough so that we got great detail," continues Buttner. "Ryan was inspired by the film grain in 'The Terminator' so that's what we wanted the vampire hunter's scenes to emulate. I used DaVinci Resolve 15 Studio's native film grain tool to get each scene's film grain nailed. The best part is that I was easily able to treat each scene like it was shot on a different stock with regard to how the grain showed. All of this lent itself well to creating the look the director wanted."
Sinking His Teeth into DaVinci Resolve Studio's Fusion Page
Buttner then used DaVinci Resolve 15 Studio's new Fusion page to add some VFX to the video.
"Beyond a few shots that needed stabilization, I also added some muzzle flashes and blood mists to the shots of the vampire hunter killing the female vampire and her second prey. I also painted out some visible set/crew in the reflection of the vampire hunter's sunglasses on some close-up shots," Buttner says.
DaVinci Resolve 15 Studio's node-based structure really helped Buttner during the video's VFX, which was a change from his previous experience that only involved layer-based compositing. "It was nice to have a clear view of which effect was on which node at a quick glance. I didn't have to spend time digging through layers to see which effect applied to which layer. Overall it was just a lot easier," Buttner explains.
"For the blood mists and muzzle flashes, I added some stock VFX footage and then used the Fusion page's polygon mask tool to create a second muzzle flash as a reflection in the sunglasses. Then I added an ellipse mask for a white background with a brightness/contrast node to act as residual light falloff from the flash," continues Buttner. "Since the music video is slow motion, I used the Fusion page's TimeSpeed effect to slow down the stock footage, and with the spline editing tool I was able to apply a nice curve to the dissolve out of the mist so that it felt like it dissipated in the air naturally.
"When it came to removing the crew from the vampire hunter's sunglass reflection, I used two methods within the Fusion page. The first was using a black background with a polygon mask, a transform, and tracking to get rid of unwanted crew reflection. This method was easier since we could allow the sunglasses to be black in that region. The other method was with its paint tools, which was a little more work per frame. However, this method allowed me to clone other reflective areas of the sunglasses to retain their reflective nature, so it looked very realistic."
"All this was made easy in DaVinci Resolve 15 Studio, since I could just switch from the Edit page or the Color page into the Fusion page and do my work. Having the power to edit, apply VFX, and color grade within one program is a dream," concludes Buttner.
To view "Bright Lights, Dark Shadows," visit https://www.youtube.com/watch?v=919XUP2hEJ0.
About Tim Buttner
Tim Buttner is a Multi-Media Expert with skills that span various forms of media. Tim began writing screenplays before he was twelve, completing his first feature-length screenplay at sixteen. He began filming in high school and at seventeen gained experience interning at Edgewood Studios on the set of "Zombie Town." Tim continued to study film at Drexel University, establishing himself in the Stereoscopic 3D revolution after attending workshops in New York City with Florian Maier on Stereoscopic Film Production. After graduating from Drexel's Film & Video Program with a Bachelor of Science, and with a Screenwriting & Playwriting Minor, Tim worked for Digital Revolution Studios under Craig Tanner and further worked in stereoscopic 3D. While at Drexel Tim co-founded a company (One Forest Films) with high school friends and for several years helped build the company as CTO, and Chief Web Designer. Through One Forest Films Tim meet young filmmaker Jamison LoCascio and teamed with him to color grade Jamison's first feature "The Depths." Tim has been a contributing writer for 3D blog MarketSaw, which allowed him to score an exclusive interview with performance capture master Andy Serkis and get exclusive set visits on some 3D features to write press.
About Ryan Justice
Ryan Justice is a film and commercial director based in Tampa Bay, Florida. Ryan's passion for movies and storytelling began as early as he can remember, and he has always held a special place in his heart for the aesthetic of '80s cinema. After graduating from the University of South Florida in 2011, Ryan has gone on to direct numerous award-winning short films, feature films, and music videos. In 2017, his first feature film "Followers," a psychological thriller about the social media generation, earned a theatrical release in the United States, garnering numerous accolades in the process and can now be viewed on several SVOD platforms (Amazon Prime).