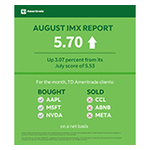 TD Ameritrade Investor Movement Index: IMX Score Advances to Mid-Range in August
Clients were net buyers of equities in the August IMX period, with buying interest strongest in the Information Technology, Industrials, and Financials sectors
OMAHA, Neb.–(BUSINESS WIRE)–The Investor Movement Index® (IMXSM) increased to 5.70 in August, up from its score of 5.53 in July. The IMX is TD Ameritrade's proprietary, behavior-based index, aggregating Main Street investor positions and activity to measure what investors actually were doing and how they were positioned in the markets.
The reading for the four-week period ending August 25, 2023 ranks "moderate" compared to historic averages.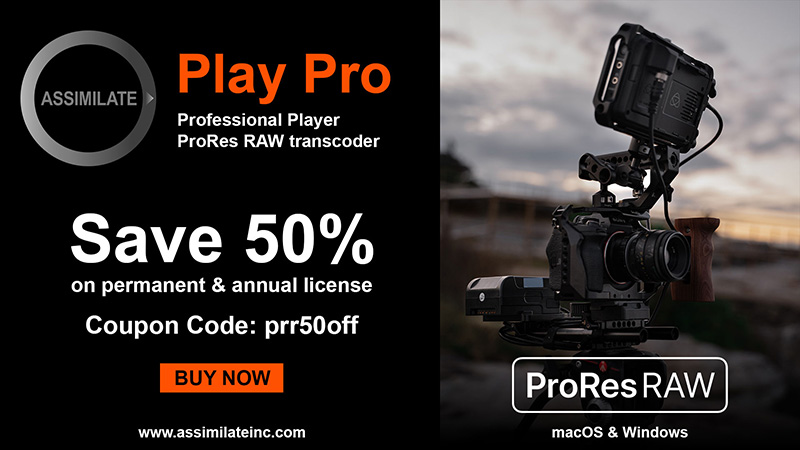 "Clients continued to increase overall market exposure in August, although we did see net selling in the Energy, Communications Services and Health Care sectors," said Joe Mazzola, Director of Trading and Education at Charles Schwab. "The balance and moderation we're seeing in the August data suggests a continuation of the cautious optimism we've seen for several months now. And it makes sense. The corporate earnings season came to an end with more than 75% of reporting companies beating lowered analyst estimates, though in many cases, those beats were only by narrow margins. And the markets themselves wandered or were lower for much of August on the heels of inflation data and Fed remarks, though they recovered in the last week of the period."
The powerful year-to-date rally in the U.S. equity markets took a breather during the August IMX period. Economic data as well as commentary from U.S. Federal Reserve Chairman Jerome Powell served as cues for many investors to lock in some profits and, perhaps, to reposition portfolios. The Consumer Price Index (CPI) rose by 0.2% for a second straight month, bringing the trailing 12-month increase to 3.2%. Most of the increase was related to shelter, while the pace of inflation across other categories such as food and energy continued to moderate. The U.S. Labor Department reported that 187,000 jobs were added in July, and the unemployment rate was little changed at 3.5%. On August 25th, the final day of the August IMX period, Chairman Powell remarked that the battle to tame inflation is not over. Though Powell acknowledged progress has been made, he signaled that the Fed is postured for additional interest rate hikes if needed, and that easing of interest rates is not yet being contemplated.
During the August IMX period the S&P 500 (SPX) decreased by 3.85%. The year-to-date uptrend has not necessarily been broken, however. The CBOE Volatility Index (VIX) climbed to over 18% during the period, closing at 15.68. This suggests that the fear of missing out on the rally in equities may be giving way, at least temporarily, to an acknowledgment of downside risk. The 10-year Treasury yield climbed to 4.212% and the U.S. Dollar Index rose to 104.06. Crude Oil Futures were little changed, closing the period at $80.10 per barrel.
TD Ameritrade clients were net buyers of equities overall during the period. Popular names bought included:
Apple Inc. (AAPL)
Microsoft Corp. (MSFT)
NVIDIA Corp. (NVDA)
Tesla Inc. (TSLA)
Walt Disney Co. (DIS)
Names net sold during the period included:
Carnival Corp. (CCL)
Airbnb Inc.(ABNB)
Meta Platforms Inc. (META)
Johnson & Johnson (JNJ)
Boeing Co. (BA)
Millennial Buys & Sells
TD Ameritrade millennial clients increased their exposure during the August IMX period and, like the overall client population, were net buyers of equities.
The overall TD Ameritrade client population and TD Ameritrade millennial clients gravitated to mega cap tech, with notable buying interest in Apple (AAPL), Microsoft (MSFT), and Nvidia (NVDA). Apple announced a product launch event to take place on September 12, where the next generation of their flagship smartphone, iPhone 15, is expected to be unveiled. Microsoft, in efforts to assuage anti-competition concerns, issued a new takeover bid of Activision Blizzard, which is being contemplated by U.S., U.K., and E.U. regulators. If approved, the $69B buyout would be the largest in Microsoft's history. Nvidia's chips are in high demand for cloud computing, artificial intelligence (AI), and gaming, and against this backdrop, the company announced earnings of $2.70 per share, beating analyst expectations for the third quarter in a row.
Amid reports that consumer credit card balances are at all-time-highs and with the U.S. Federal Reserve signaling that additional interest rate increases may be necessary, TD Ameritrade millennial clients may have viewed these signals as early warnings to exit some positions in stocks associated with discretionary purchases or other names that are sensitive to interest rates. TD Ameritrade millennial clients were net sellers of Carnival Cruise Lines (CCL), Airbnb (ABNB), and Meta Platforms (META) during the August IMX period. Carnival Cruise Lines relayed expectations that it will continue benefiting from pent-up demand, but shares took a breather in August until they found support at levels last seen in June. Shares of Airbnb were under pressure due to both a supply glut and demand beginning to trend modestly lower. Meta Platforms (formerly "Facebook") also moved lower during the August IMX period, but found support near $285 per share. The social media giant's newest app, "Threads," is meant to compete with X (formerly Twitter) and other online discussion forums by providing a more customizable and tailored experience; it remains to be seen if they will succeed in capturing significant market share.
Looking at S&P500 sectors, TD Ameritrade millennial clients bought most heavily in Information Technology, Financials, and Consumer Discretionary; they were net sellers of just two sectors, Energy and Communication Services.
About the IMX
The IMX value is calculated based on a complex proprietary formula. Each month, TD Ameritrade pulls a sample from its client base of funded accounts, which includes all accounts that completed a trade in the past month. The holdings and positions of this statistically significant sample are evaluated to calculate individual scores, and the median of those scores represents the monthly IMX.
For more information on the Investor Movement Index, including historical IMX data going back to January 2010, to view the full report from August 2023, or to sign up for future IMX news alerts, please visit www.tdameritrade.com/IMX. Additionally, TD Ameritrade clients can chart the IMX using the symbol $IMX in either the thinkorswim® or thinkorswim Mobile platforms.
Inclusion of specific security names in this commentary does not constitute a recommendation from TD Ameritrade to buy, sell, or hold. All investments involve risk including the possible loss of principal. Please consider all risks and objectives before investing.
Past performance of a security, strategy, or index is no guarantee of future results or investment success. Historical data should not be used alone when making investment decisions. Please consult other sources of information and consider your individual financial position and goals before making an independent investment decision.
The IMX is not a tradable index. The IMX should not be used as an indicator or predictor of future client trading volume or financial performance for TD Ameritrade. IMX data includes that from accounts of TD Ameritrade clients which recently transferred to our affiliate, Charles Schwab & Co., Inc., as part of our planned integration.
About TD Ameritrade
TD Ameritrade provides investing services and education to self-directed investors and registered investment advisors. A leader in U.S. retail trading, we leverage the latest in cutting-edge technologies and one-on-one client care to help our clients stay on top of market trends. Learn more by visiting www.tdameritrade.com.
Brokerage services provided by TD Ameritrade, Inc., member FINRA (www.FINRA.org) / SIPC (www.SIPC.org), a subsidiary of The Charles Schwab Corporation. TD Ameritrade is a trademark jointly owned by TD Ameritrade IP Company, Inc. and The Toronto-Dominion Bank. © 2023 Charles Schwab & Co. Inc. All rights reserved.
Contacts
At the Company
Margaret Farrell

Director, Corporate Communications

(203) 434-2240

margaret.farrell@schwab.com