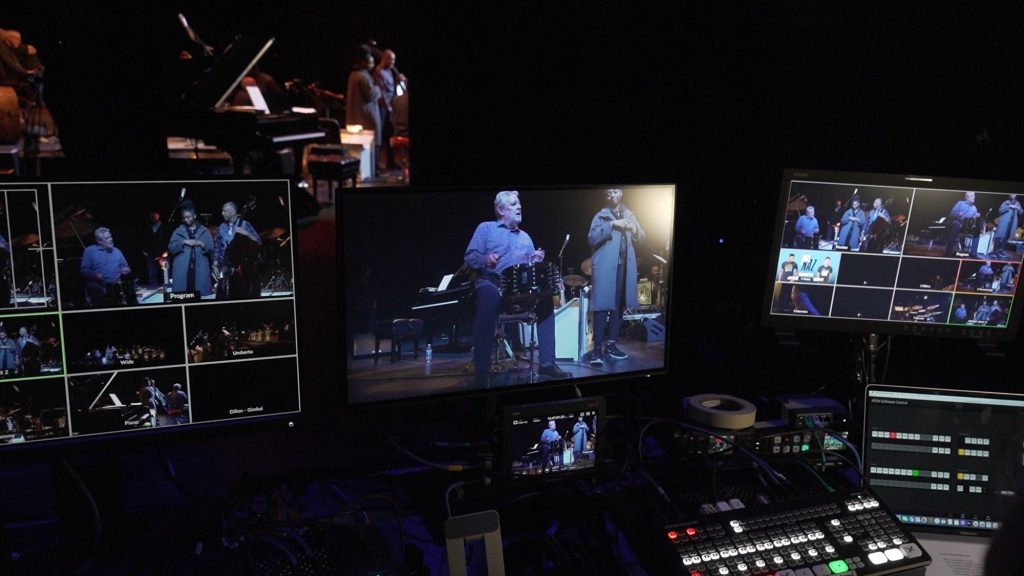 Fremont, CA, USA – Thursday, June 22, 2023 – Blackmagic Design today announced that Blackmagic Studio Camera 6K Pros were used to capture the live stream of Grammy award winning singer Samara Joy's concert with the Clayton-Hamilton Jazz Orchestra at the Younes and Soraya Nazarian Center for the Performing Arts (The Soraya). Known for hosting incredible performances in the Los Angeles region, The Soraya's live streaming efforts have opened its doors to global audiences, and it turned to independent filmmaker Phil Pritchard to create a dynamic visual narrative to match the lively concert.
Fresh off her recent Grammy wins, Joy filled The Soraya's 1,700 seat theater located on the campus of California State University, Northridge, and reached an additional 1,200 of its subscribers online. The live stream was powered by 12 Blackmagic Design cameras. Two Blackmagic Studio Camera 6K Pros were set up on either side of the stage, close to the action. Additionally, three Blackmagic Pocket Cinema Camera 6K digital film cameras were used around the stage by camera operators, and six Blackmagic Pocket Cinema Camera 4K digital film cameras were used for static shots, focusing on various instrumentalists from the 19 piece orchestra. Another Pocket Cinema Camera 4K was used to film exclusive interviews with Joy before the concert began, which were included for the audience watching at home.
The cameras were fed into two ATEM Mini Extreme ISO live production switchers, and a Blackmagic Web Presenter 4K streaming solution delivered the live stream. Two Blackmagic Video Assist 7" 12G HDR monitor/recorders were used to send camera feeds to the camera operators, and a HyperDeck Studio HD Plus broadcast deck was used to add prerecorded video ads and stringers to the live stream.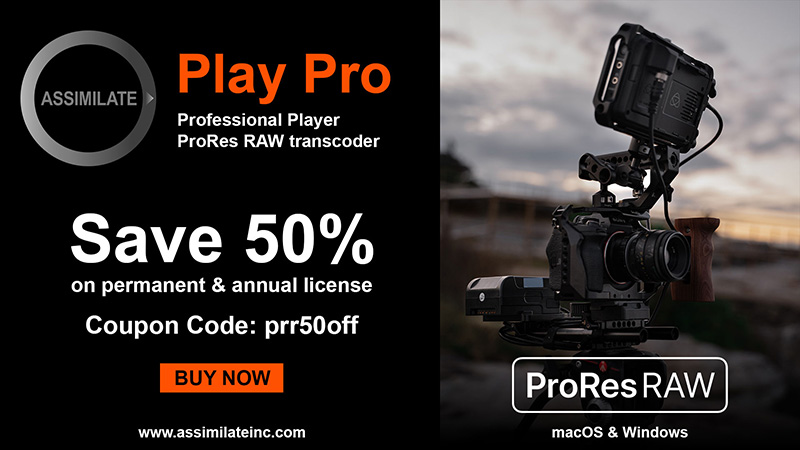 The live stream was led by Los Angeles based British actor and filmmaker Pritchard and his team of independent filmmakers, who have used their vast experience in front of and behind the camera to not only pivot into live streaming but also create cinematic live productions.
"Different performances have different flows. If it's a theatrical performance, there may be some quiet parts, but with music, you always get something, especially with jazz. You want to be able to follow the tempo and flow of the music," noted Pritchard. "It can look quite filmic, like a movie, and the musicians are always doing something interesting with their facial expressions. Big bands are rare now, so we wanted to make sure we captured their spirit and the interactions between the performers, which the Blackmagic cameras allowed us to do with their dynamic range, color science and more."
Designed for cinematic live production, the Blackmagic Studio Camera 6K Pros' sensors and Generation 5 Color Science deliver high quality cinematic images. For the concert, they were equipped with Blackmagic Zoom Demands and Blackmagic Focus Demands, which helped the team easily zoom in and out to find dynamic camera angles and shots.
Pritchard added, "When an amazing vocalist like Samara is singing, you also want to be very slowly zooming in at the same time to match the focus to a crescendo, for example, or slowly, slowly zooming out to get a beautiful panorama shot of the whole band. We were able to capture some wonderful closeups during the live stream due to the cameras' Zoom Demands, as well as their built in 7" monitors, which helped us easily line up shots.
"The cameras' dynamic range and dual native ISO also helped us balance the concert's lighting situation, which was a bit tricky as the background was very dark, but the highlights were very bright with the musicians under spotlight."
"As independent filmmakers and storytellers, we were very familiar with Blackmagic Design and have an arsenal of its cameras from our filmmaking projects," explained Pritchard. "When the pandemic first hit, we put this knowledge to good use and started working with venues, like The Soraya, which wanted to create high quality live streams for its audiences who were stuck being remote. With Blackmagic Design also introducing live streaming capabilities to its Pocket Cinema Camera line, it was an easy transition, especially since the cameras work seamlessly with the ATEM switchers."
"For a project like this, we were able to add Blackmagic Studio Camera 6K Pros to the kit to make the stream look even more professional, and since everything is part of the same intuitive ecosystem, it was easy for the team to use the new gear right out of the box. Not to mention being able to use the same EF lenses was a game changer," Pritchard concluded. "Whether it's with filmmaking or live streaming, storytelling always comes first, and Blackmagic Design allows us to continue to move back and forth between those two worlds."
Press Photography
Product photos of Blackmagic Studio Camera 6K Pro, Blackmagic Zoom Demand, Blackmagic Focus Demand, Pocket Cinema Camera 6K, Pocket Cinema Camera 4K, ATEM Mini Extreme ISO, HyperDeck Studio HD Plus, Blackmagic Web Presenter 4K, Video Assist 7" 12G HDR and all other Blackmagic Design products are available at www.blackmagicdesign.com/media/images
About Blackmagic Design
Blackmagic Design creates the world's highest quality video editing products, digital film cameras, color correctors, video converters, video monitoring, routers, live production switchers, disk recorders, waveform monitors and real time film scanners for the feature film, post production and television broadcast industries. Blackmagic Design's DeckLink capture cards launched a revolution in quality and affordability in post production, while the company's Emmy™ award winning DaVinci color correction products have dominated the television and film industry since 1984. Blackmagic Design continues ground breaking innovations including 6G-SDI and 12G-SDI products and stereoscopic 3D and Ultra HD workflows. Founded by world leading post production editors and engineers, Blackmagic Design has offices in the USA, UK, Japan, Singapore and Australia. For more information, please go to www.blackmagicdesign.com