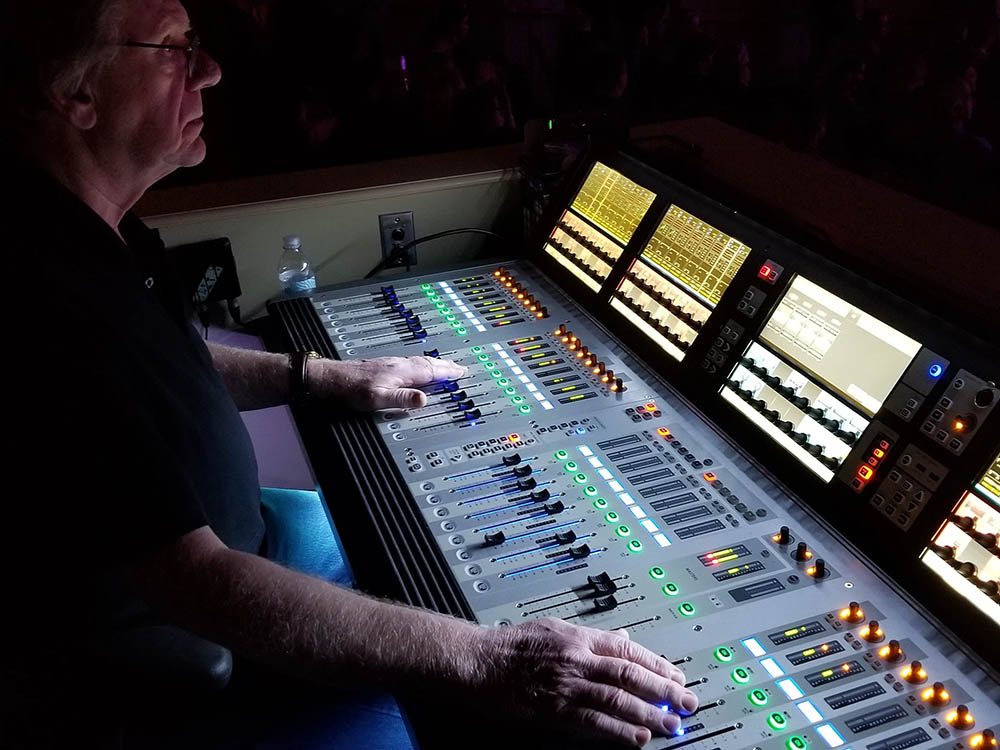 Pro Sound Services upgrades the venue's front-of-house mixer with a next-generation Vi3000 digital audio console for its advanced capabilities and intuitive workflow
NORWOOD, Mass.—To provide a wide range of events with an unparalleled live sound mixing experience, Norwood Theatre recently collaborated with Pro Sound Service and HARMAN Professional Solutions to upgrade its front-of-house audio mixer with a Soundcraft Vi3000 digital live sound console.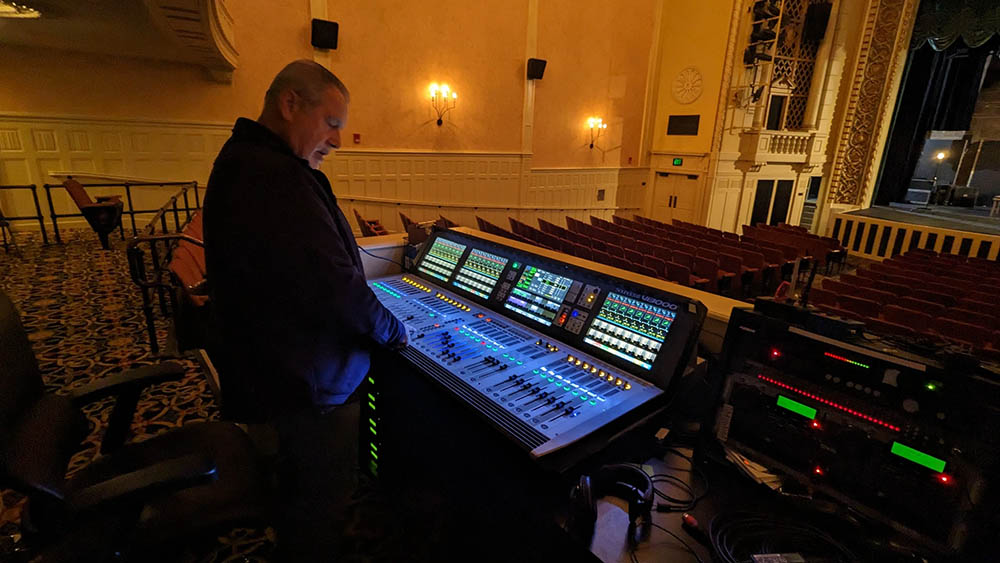 Built in 1927 and fully renovated in 2012, the Norwood Theatre is a performance venue that hosts concerts, plays, musicals, and comedy in Norwood, a southwestern suburb of Boston. As part of the 2012 renovation, Norwood Theatre turned to provider Pro Sound Services to install a complete HARMAN Professional live sound reinforcement solution, consisting of JBL VT4886 and VRX Series loudspeakers, Crown amplifiers, BSS signal processors and a Soundcraft Vi1 console at front-of-house. Norwood Theatre's production staff were pleased with the workflow and sound quality of the Vi1, but they wanted to upgrade to a similar desk with more faders. In 2022, outgoing Production Manager Ed DiMarzio and current Production Manager Jeff Morley worked closely with Charlie Tappa of Pro Sound Service to replace the Vi1 with a brand new Soundcraft Vi3000 digital live sound console at Norwood Theatre's front-of-house mix position.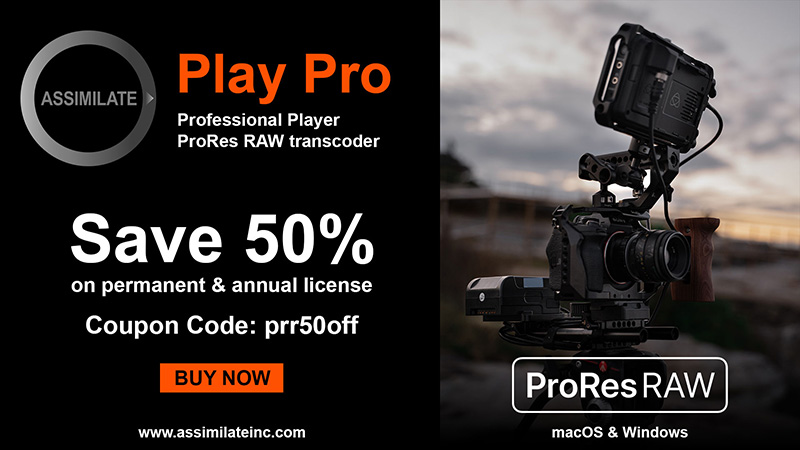 "The system we installed in 2012 was part of a huge renovation," said Tappa. "We did analysis on what would be the best products to fulfill their needs, not only for live music performances, but for pro theater as well. The combination of the JBL loudspeaker system and Soundcraft mixing solutions has worked very well for them. All through the ten years since that installation, the customer said that they wish they'd invested in a larger console. They didn't need more inputs, but they wanted more faders on the control surface. The Vi3000 was the next natural progression."
The Vi3000 is a 36-fader, 24-buss digital live sound console with two expansion bays that can be fitted with MADI Stagebox cards to connect multiple Soundcraft Stageboxes at one time. The Vi3000 can also accommodate the new Soundcraft Realtime Rack, a hardware/software unit that provides access to 74 industry-standard UAD plug-ins. The Vi3000 is the first Soundcraft console to incorporate a Dante interface for seamless digital audio networking with Dante-enabled devices. Morley noted the versatility the Vi3000 provides when simultaneously mixing and recording events at Norwood Theatre.
"I really liked the sound of the Vi1 and its workflow but wanted more faders on deck," said Morley. "I also wanted the additional flexibility it has with built-in Dante for recording and the capability to support both a stage box and the Soundcraft Realtime Rack plug-in engine via MADI. The other nice thing is the patchable BSS DPR901ii Dynamic EQs—they're a great tool to have on hand when mixing."
Along with its greatly expanded functionality, the Vi3000 retains all the features that have made the Soundcraft Vi Series the consoles of choice for live sound engineers worldwide. The Vi3000's intuitive workflow and consistency with Norwood Theatre's Vi1 console—now serving as the venue's monitor console—enable the house staff and touring engineers alike to quickly dial in professional mixes even without previous experience on the console.
"The production staff say they love how effortless the transition has been from the original Vi1 to the current-generation Vi3000," said Tappa. "After their experience with the Vi1, they liked the functionality, workflow and ease of use, not only for their own needs but for the visiting engineers as well. With five minutes of instruction just on the exact configuration for the venue, touring engineers are easily getting accustomed to the console, even if they haven't been on a Vi before. The workflow makes perfect sense—everybody just loves the console."
Finally, Tappa noted that the Vi3000's VM2 radio mic status monitoring has been a boon for the staff at Norwood Theatre now that they can monitor information about their Shure wireless systems——including battery life, RF status, mic muting and internal clipping—on the Vi3000's display.
"It allows integration with Shure wireless systems, which is a big thing for them," said Tappa. "They've got many channels of Shure digital wireless. The engineer doesn't have to look down at the wireless rack or at an outboard computer because they can see all critical information about the wireless systems directly on the Vi3000 touch screen."
Norwood Theatre
Pro Sound Service
http://www.prosoundservice.com/
Soundcraft
ABOUT HARMAN PROFESSIONAL SOLUTIONS
HARMAN Professional Solutions (pro.harman.com) engineers and manufactures audio, video, lighting and control products for entertainment and enterprise markets, including live performance, audio production, large venue, cinema, retail, corporate, education, government, hospitality, broadcast and more. With leading brands including JBL Professional®, AKG®, Martin®, AMX®, Soundcraft®, BSS Audio®, Crown®, dbx Professional®, and Lexicon Pro®, HARMAN Professional delivers powerful, innovative and reliable solutions that are designed for world-class performance. HARMAN Professional Solutions is a Strategic Business Unit of HARMAN International, a wholly-owned subsidiary of Samsung Electronics Co., Ltd.
HARMAN Professional Solutions on Facebook | LinkedIn | YouTube
ABOUT HARMAN
HARMAN (harman.com) designs and engineers connected products and solutions for automakers, consumers, and enterprises worldwide, including connected car systems, audio and visual products, enterprise automation solutions; and services supporting the Internet of Things. With leading brands including AKG®, Harman Kardon®, Infinity®, JBL®, Lexicon®, Mark Levinson® and Revel®, HARMAN is admired by audiophiles, musicians and the entertainment venues where they perform around the world. More than 50 million automobiles on the road today are equipped with HARMAN audio and connected car systems. Our software services power billions of mobile devices and systems that are connected, integrated and secure across all platforms, from work and home to car and mobile. HARMAN has a workforce of approximately 30,000 people across the Americas, Europe, and Asia. In March 2017, HARMAN became a wholly-owned subsidiary of Samsung Electronics Co., Ltd.
HARMAN on Instagram | LinkedIn
Contact
David Glaubke
Director, Global Corporate Communications
HARMAN Professional Solutions, Luxury Audio Group, Embedded Audio
+1 (818) 895-3464 O
david.glaubke@harman.com
Audio®, Crown International®, dbx Professional®, Lexicon Pro®, Martin® and Soundcraft®