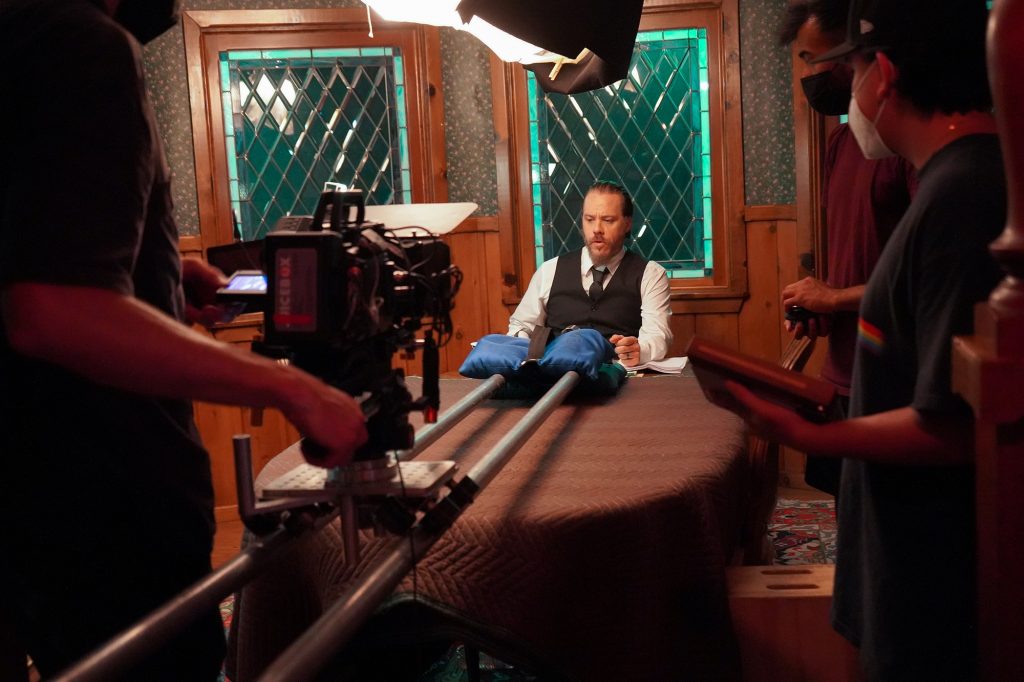 Festival Short Film Black Maria Shoots and Finishes with Blackmagic Design
Fremont, CA – June 15, 2023 – Blackmagic Design today announced that the short film "Black Maria" will make its debut at the 2023 Dances With Films Festival, which will be held at the TCL Chinese Theatre in Los Angeles. "Black Maria" was shot with the Blackmagic URSA Mini Pro 12K digital film camera and graded with DaVinci Resolve Studio editing, visual effects (VFX) and audio post production software.
A modern day gangster film, "Black Maria" follows Ana Morales, the wife of a local gangster and petty thug with a penchant for violence. When the infamous Allende Brothers darken her doorstep, Ana is forced to confront her husband's horrifying truth. The film stars Michael Raymond-James ("True Blood," "Jack Reacher"), Vanessa Vasquez ("East Los High," "Walker"), Jason Manuel Olazabal ("Dexter," "Bad Boys II") and Augusto Aguilera ("The Last Thing He Told Me," "Too Old to Die Young"). Writer/Director Marcus Albino developed the original story with production house Cloak and Cauldron co founder Barbara Estelle DeJesus.
From the beginning, the team set out to create a film that avoided the standard trope of gangster films. "I wanted to project a different kind of strength, not violence for violence's sake, but a constant struggle to retain one's sense of decency in this dark little corner of the world," said Albino.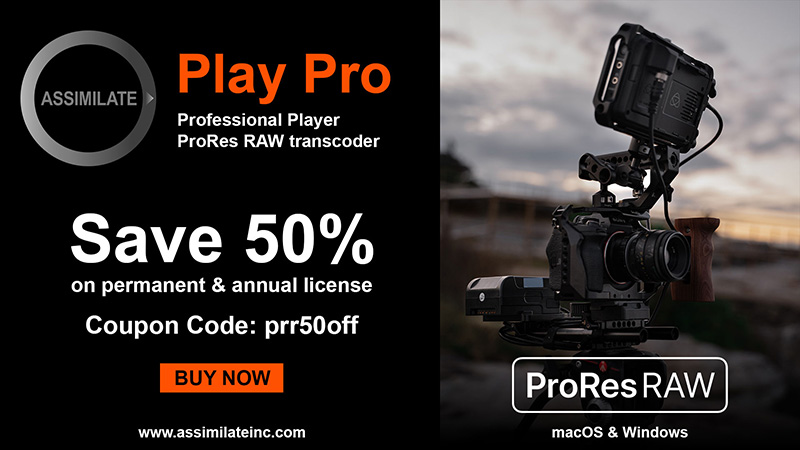 With Producer Brad Frizzell on board, the team set out to identify the right cinematographer. Kyle McConaghy landed the position and quickly made an impact. "Kyle's sense of lighting and composition is simply fantastic," added Albino. "He introduced these bold reds and greens, a fierce passion for intense close ups, tracking shots, and wide shots, where we could key in on crucial moments but still give our performers the opportunity to bide their time and really sink their teeth in."
For Frizzell, using a Blackmagic Design camera was an obvious choice. "The picture resolution and quality you get with a Blackmagic camera is unmatched, especially for the price point," said Frizzell. "And when you're working on projects with smaller budgets, paying out of your own pocket, every dollar you can save without sacrificing the final product is a must."
McConaghy was also already familiar with Blackmagic Design cameras and was eager to try the URSA Mini Pro 12K on the project. "I shot with Blackmagic cameras on several feature films and absolutely love the color science," said McConaghy. "They grade so well, retain highlights beautifully and capture skies so much better than other cameras."
The goal was to create a classic style to the piece. "We wanted to reintroduce that 1950s/1960s elegance as seen in 'The Godfather' with the ideals and principles of the modern age," said Albino.
The team decided to shoot with 1970's Russian LOMO spherical lenses, which gave the image a gritty feeling. The combination of ultra high resolution with vintage glass created a unique style.
Initially, Albino and McConaghy intended to keep the camera on sticks, planning a more classic, static look as found in older films, but quickly they pivoted to a more nuanced approach. "We wanted to allow our audience the chance to sink into every moment, to maintain a steady burn, building to one riotous violent conclusion," added Albino. "After shooting the first take of the first scene, I looked around the kitchen, and Kyle and I knew what we had to do. We kicked the 12K off the sticks and thrust it atop Kyle's shoulder where it would remain for about half of the production."
For the color grade, Albino and Frizzell brought aboard a longtime collaborator, Casey Merrill, who dove into the core of the project. "Marcus called me up and I jumped on board," said Merrill. "He and I immediately began discussing all the little details that would come into the story, starting with locations and setting, costumes, props and culture. Our main focus was to cast a light on a modern crime family, featuring a strong matriarchal presence and how human trafficking had become a black mark on their business."
Merrill's experience with DaVinci Resolve Studio dates back over ten years to his time at the Academy of Art University in San Francisco. "I enjoy working with DaVinci Resolve for the user interface," continued Merrill. "Having a graphic design background, I prefer the interface over other grading software for the fact that simplicity was thought of when it was designed. There may be a lot going on in the interface, but each section has its grid and necessary toggles and is designed to be subtle with less eye bombardment and distraction."
For "Black Maria," the grade took several turns before landing on a final look. "'Black Maria' had many days of post just for grading," added Merrill. "My first pass was far too dark and moody. We all felt it needed to be a bit brighter for viewing across multiple devices; textures on the walls, in clothing, and in hair were all disappearing into the shadows. So, I gave back a lot of the blacks and mid tones, but then the grade became too light. It was a tricky balance trying to maintain the overall mood we felt was right for the project while keeping things bright enough to see details in the shadows. Thankfully, on the third pass, I was able to find the perfect middle ground. I sent it off to the team, and we agreed that was it."
For Merrill, one scene stands out as his favorite. "The sequence around the coffee table at the end: the dialogue, laughter, and body language between the characters showed where they came to in their own stories," he noted. "I thought that moment worked so well. Also, on the newspaper at the end, you can see a section for current movie showings where I placed movie posters of all our former projects that we had worked on together as a group. An Easter egg of our own filled with nostalgia. That makes it even more special."
For Albino, embracing the Blackmagic Design workflow proved to be a strong decision. "In today's market, there are a litany of cameras and post production software for the independent filmmaker to choose from," he said. "This project was a monumental leap forward for me and my entire team, both in quality and scope. Given that there would be variables forever out of my control, I knew that I could trust Blackmagic Design to deliver high quality images in a fast paced environment that would best match our desired aesthetic. I also knew that DaVinci Resolve Studio is perhaps the best example of vertical integration in the business today. Looking back, I think the results speak for themselves."
Press Photography
Product photos of URSA Mini Pro 12K, DaVinci Resolve Studio and all other Blackmagic Design products are available at www.blackmagicdesign.com/media/images
About Blackmagic Design
Blackmagic Design creates the world's highest quality video editing products, digital film cameras, color correctors, video converters, video monitoring, routers, live production switchers, disk recorders, waveform monitors and real time film scanners for the feature film, post production and television broadcast industries. Blackmagic Design's DeckLink capture cards launched a revolution in quality and affordability in post production, while the company's Emmy™ award winning DaVinci color correction products have dominated the television and film industry since 1984. Blackmagic Design continues ground breaking innovations including 6G-SDI and 12G-SDI products and stereoscopic 3D and Ultra HD workflows. Founded by world leading post production editors and engineers, Blackmagic Design has offices in the USA, UK, Japan, Singapore and Australia. For more information, please go to www.blackmagicdesign.com