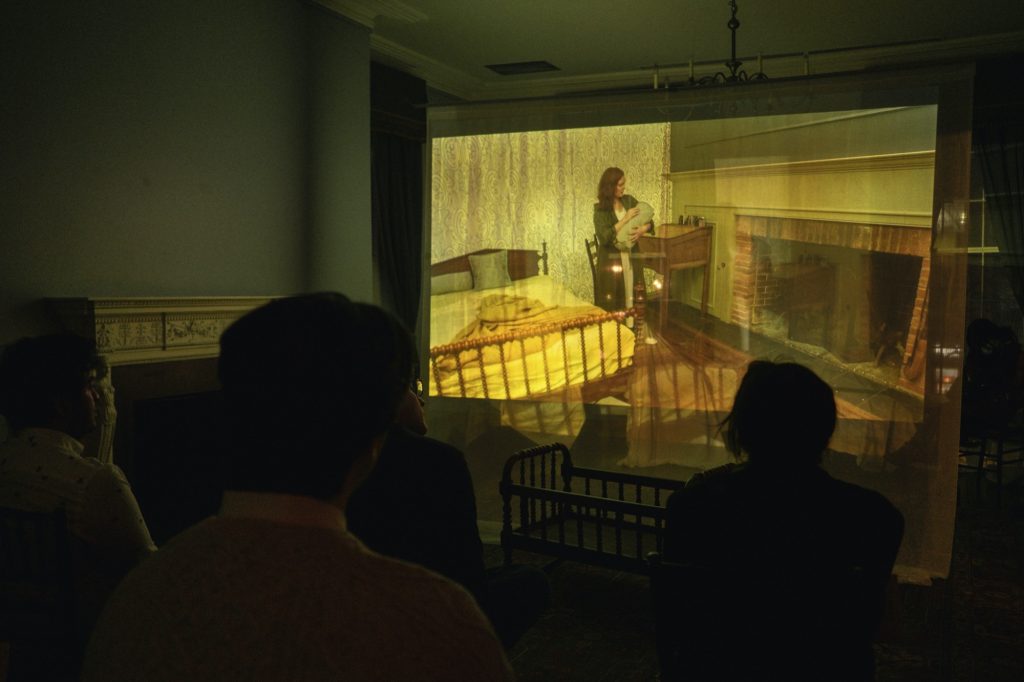 Fremont, CA – June 5, 2023 – Blackmagic Design today announced that Bygone Theatre relied on Blackmagic Studio Camera 4K Pro and Blackmagic Studio Camera 4K Plus, as well as an ATEM SDI Extreme ISO live production switcher, for its interactive digital theatre experience of "The Yellow Wallpaper." In addition to streaming the live production to viewers at home, the Blackmagic Design gear powered the projection based in person performance held at Toronto's Campbell House Museum.
Since its founding in 2012, Bygone Theatre has been dedicated to advancing independent theatre in Toronto through various initiatives, including production, education and outreach. Its recent staging of Charlotte Perkins Gilman's "The Yellow Wallpaper" took this commitment a step further by incorporating Blackmagic Design's technology to create an immersive experience for the audience.
In "The Yellow Wallpaper," the protagonist, known only as 'A Woman,' is forced into isolation by her physician husband. The story follows her descent into madness as her confinement and obsession with the sickly yellow wallpaper in her bedroom gradually erode her sanity and sense of self.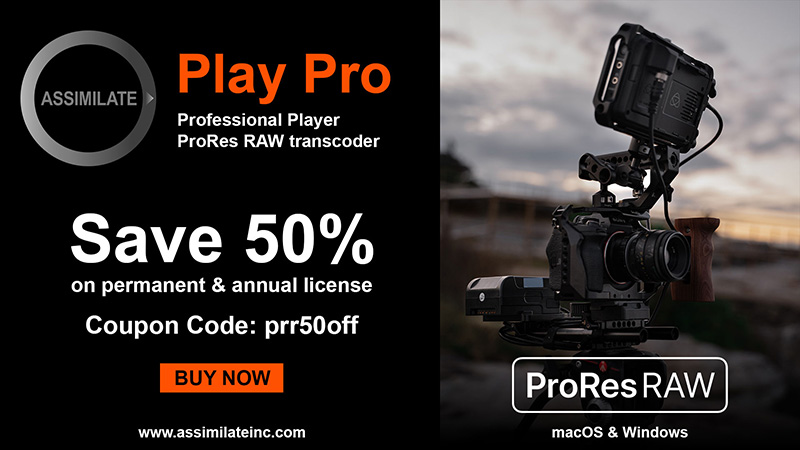 During the live performance, Bygone Theatre used artistic projections to captivate the audience who was invited to wander and explore the different rooms and elaborate sets, interacting with unique elements like the curtains and dining room dishes, to add to the overall story and their experience. The show was also available for audiences via a livestream on Zoom.
Producer/Director Emily Dix and Producer Conor Fitzgerald used the four Blackmagic Studio Cameras to capture the complex performance of "The Yellow Wallpaper." Three of the cameras were connected to an ATEM SDI Extreme ISO, while the fourth camera was connected to a computer using a DeckLink Duo 2 capture and playback card for projection mapping technology that enabled interactive elements, including the moving wallpaper.
Each camera feed was used as part of a live switched livestream for viewers to watch at home via Zoom, as well as used as a direct feed into the projectors that were placed around the Campbell House Museum.
Projection Designer Bria Cole explained that the cameras' large LCD screens and lightweight bodies were especially helpful during the setup process.
"As a production team, we had limited access to the space before the technical setup. The large monitors on our Blackmagic Design cameras made it possible for me to imagine and conceptualize the projections in each room," she said. "This allowed us to safely suspend one of the cameras with lightweight rigging to create one of the show's iconic images: the image of A Woman lying on the bed, which was then projected onto the dining room table."
Fitzgerald commented, "We knew that multiple camera angles were necessary for the telling of this story, as each camera captured a unique perspective of the play. At the same time, we needed a camera that was easy to use and versatile. Our Blackmagic Design cameras were a game changer, especially the touch screen features, built in color correction and exceptional low light performance, which allowed us to uplevel our production as a two person team."
Bygone Theatre utilized the ATEM SDI Extreme ISO as the center of its production hub, leveraging the built in Fairlight audio mixer to adjust audio levels during the performance and livestream. As a result of its age, the Campbell House Museum provided challenging acoustics, but Fitzgerald noted the switcher's audio capabilities and the ability to plug additional microphones into the Blackmagic Studio Camera 4K Pros helped them attain their desired sound.
He added, "Furthermore, the ATEM SDI Extreme ISO's ability to record both the switched stream and all the individual camera feeds is just amazing. We're hoping to sell 'The Yellow Wallpaper' in the future to schools that might be studying the play. With just a press of a button on the switcher, we have all the content we need for future uses."
"'The Yellow Wallpaper' production was a resounding success and Blackmagic Design played an essential role in making it so," concluded Cole. "With its 4K cameras and versatile capabilities, Blackmagic Design is a wonderful tool to unleash unexpected and engaging productions. I am excited to see how other productions will use this technology to create immersive experiences for audiences."
Press Photography
Product photos of Blackmagic Studio Camera 4K Pro, Blackmagic Studio Camera 4K Plus, ATEM SDI Extreme ISO, DeckLink Duo 2 and all other Blackmagic Design products are available at www.blackmagicdesign.com/media/images.
About Blackmagic Design
Blackmagic Design creates the world's highest quality video editing products, digital film cameras, color correctors, video converters, video monitoring, routers, live production switchers, disk recorders, waveform monitors and real time film scanners for the feature film, post production and television broadcast industries. Blackmagic Design's DeckLink capture cards launched a revolution in quality and affordability in post production, while the company's Emmy™ award winning DaVinci color correction products have dominated the television and film industry since 1984. Blackmagic Design continues ground breaking innovations including 6G-SDI and 12G-SDI products and stereoscopic 3D and Ultra HD workflows. Founded by world leading post production editors and engineers, Blackmagic Design has offices in the USA, UK, Japan, Singapore and Australia. For more information, please go to www.blackmagicdesign.com.